Overpowered Forums - The Overpowered Minecraft Network
Hello all!
Background Info
As you all have been waiting for, our new nickname system, OPNicknames, has launched! The reason we had to remove our old system was because it did not work with name changes and was simply outdated. Our new system is also fully
global
, meaning when our new servers (KitPvP) launch your nicknames will be carried over there as well!
New System
The new nickname color system rids all use of color codes making it extremely user friendly. It now features a set of advanced GUIs in order to make changing your name the easiest it can be. You select your
colors
, select a
pattern
for said colors, and
confirm
your name style; easy peasy! Similar to how it was in the past, you can only change your name color once per hour.
Sounds awesome! Where do I get it?
As it just did not make sense to keep this as a factions rank perk anymore, a new category dedicated to Hub perks has been added to the
store
. You can...
Background Information:
Hello everyone! As you all are well aware, our network re-opened to the public just one week and four days ago. We clearly did not have the most perfect launch, however all that matters is that we are up now and hundreds of our loyal players are back enjoying OPHub's exclusive content. I had been waiting to make this post due to behind-the-scenes circumstances however I cannot wait any longer. You all need this information and OPHub will not be held back by others. We have a platform that other networks could not even come close to providing and if said others do not see that we are going to move right along. We certainly do not rely on anyone and are more than capable of creating our own success. With that said, let's get into it shall we?
The Revolution:
Tons of changes were made during the revolution to not just OPFactions, but to our entire network as a whole. Here is a breakdown of nearly every change that has been made to OverpoweredHub:
New Hosting
OPHub is ever-growing and so are our hosting needs. Our new host, which also serves the
largest
Minecraft server in...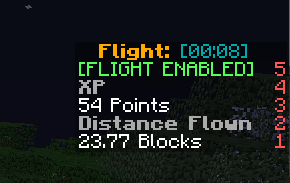 Hello everyone!
New Rank:
I hope you all are enjoying the new network! There is
a lot
that has been done and a lot more to be done, but this is not the post for that. I am happy to announce our new rank, "
O
v
e
r
p
o
w
e
r
e
d
", has been released! The most noteworthy perk for this rank is /fly, which I am very excited to release. Before you go on worrying that this perk will be too OP, /fly requires the user to have a certain amount of XP and a certain amount of money per 5 seconds of flight travel. /Fly can also
ONLY
be used in Wilderness/Your own faction territory. If a player in flight is hit by a mob or another player their flight is canceled and they are unable to enter flight mode for 60 seconds after being damaged. If damage were to happen again, the timer would reset back to 60 seconds just like our combat log plugin. OPFly is the most advanced fly plugin the world has ever seen for and is bundled with a...